The Course Director
---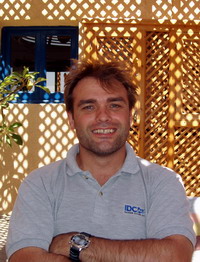 Rainer Suter, PADI Course Director, is a Swiss National, he comes from Luzern, and has been living basically in the Philippines since 1997. Rainer was able to earn in the past years plenty of experience all over the dive industry, especially in guest relation. Rainer is well known in the whole dive industry as a blameless, professional person, who is able to handle the paying guest. He knows exactly what it means, "Take something from your customer, but give him also something back!!"
In the past 10 years Rainer was leading plenty Dive Centers and Dive Resorts. Most of it he was leading were PADI Gold Palm 5 Star IDC Facilities and as well a PADI Career Development Center.
Rainer became a PADI Professional 1996 and worked before in several Dive Centers around the world, but he is also very familiar with his local environments like the lakes, springs and rivers in Switzerland. He still spends a couple of months every year in Switzerland and enjoys the cold water environments. He also successfully teaches Instructor Development Courses in Europe.
Rainer's favorite diving activities are Nitrox- , Wreck- and Shark Diving. He also created his own PADI Distinctive "Introduction to Sharks" Specialty Course, witch rating you also can get in a Specialty Instructor Training in the Philippines or in Egypt follows after the IDC program. Rainer became a PADI Course Director in March 2004 and since March 2005 he owns his own company "IDC Pro International" This Company offers plenty Instructor Development Courses in different IDC facilities in the Philippines, Egypt, Germany and Switzerland. The concept is easy. Rainer comes to you, close to your area. He is proud to offer you the best instructor education you ever can get. He emphasizes on modern teaching techniques, small classes and reliability like a Swiss watch.
Rainer speaks and teaches in English and German Language.